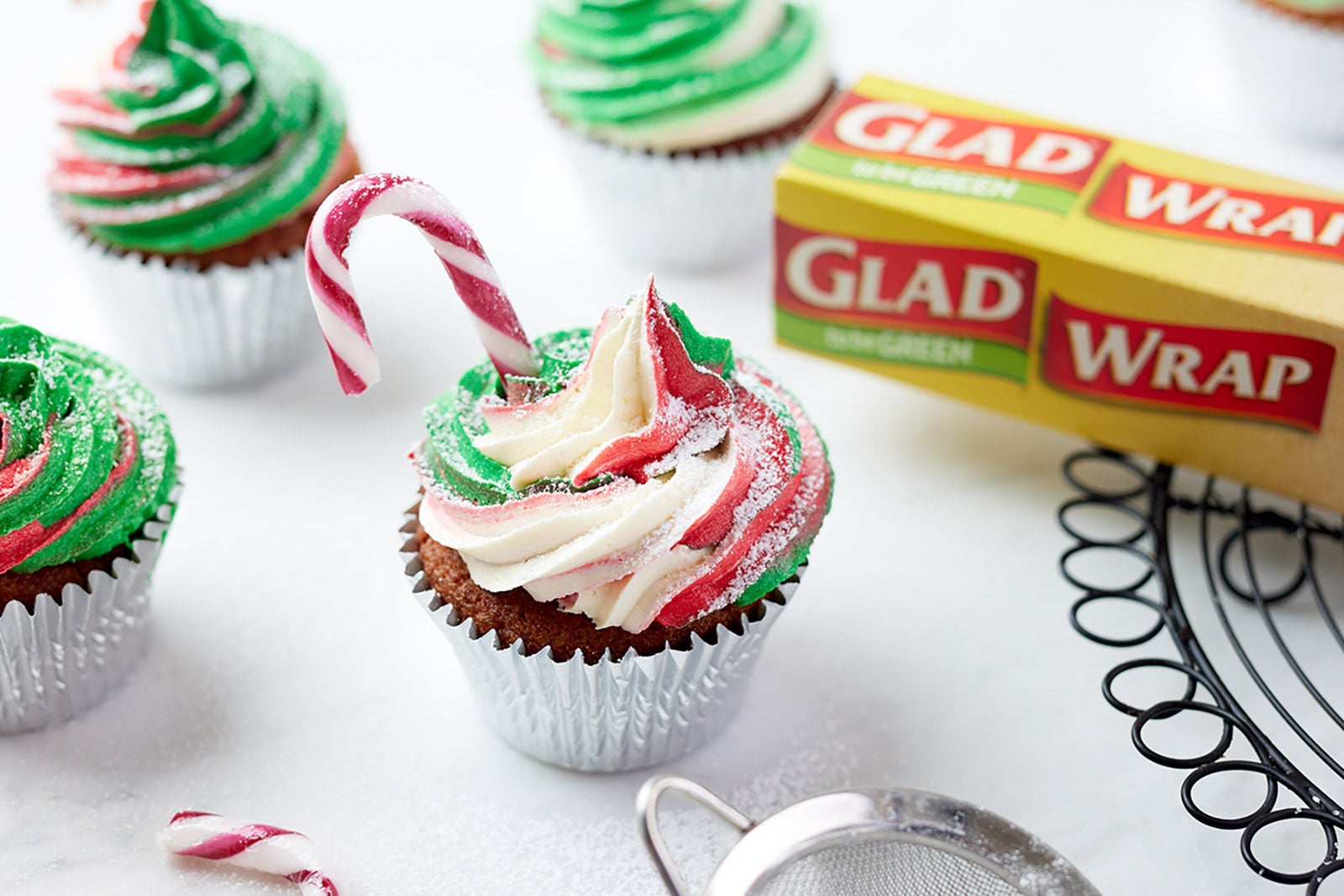 Candy Cane Swirl Cupcakes
By Dani Venn for Glad
Prep Time: 30 minutes
Cook Time: 20 minutes, plus cooling
Basic Cupcake Recipe
Makes approx. 12 – 14 cupcakes
250g unsalted butter, softened
250g caster sugar
250g self raising flour, sifted
1 teaspoon vanilla extract
4 eggs
¼ cup milk
Preheat oven to 180 degrees. Line cupcake pan with cupcake patties.
Place butter and sugar into the bowl of a stand mixer fitted with a flexible paddle attachment and cream the butter and sugar together until it's light and fluffy. Add vanilla and eggs one at a time, ensuring each is combined well after each addition, add flour and milk and fold in with a large metal spoon until combined. Divide mixture between patty cases. Bake for 15 – 20 minutes until cupcakes spring back.
Remove from oven and allow cupcakes to cool down completely on a cake rack before icing.
Candy Cane Icing
500g unsalted butter, softened
800g pure icing sugar, sifted
2 drops of peppermint essential oil or flavouring
1 teaspoon vanilla extract
A few drops of red, green and white food colour or gel
Place butter into the bowl of a stand mixer fitted with a whisk attachment. Add a few tablespoons of icing sugar, peppermint flavour and vanilla and mix well on medium speed to combine. Gradually add the icing sugar to the buttercream, decrease speed when adding icing sugar. Whisk until thick and creamy and smooth. Remove from stand mixer and divide buttercream equally between three bowls.
Add a few drops of green, red and white colour into each separate bowl of buttercream. Mix well with a spoon to combine and add a little more to achieve the right shade of colour.
Scoop buttercream out of bowl and place in a Glad to Be Green Snaplock Bag. Seal the bag and store.
When you are ready to ice your cupcakes place a sheet of Glad to Be Green Clingwrap on a clean work surface. Cut the corner tip of each snaplock bag and squeeze out a long sausage shape across the clingwrap, place each colour right next to each other. When you have three colours, roll the clingwrap to form a tight sausage shape. Cut the tip off one end of the clingwrap place the icing into a piping bag fitted with a large star nozzle and swirl the icing onto each cupcake, starting from the outside of the cupcake and work your way into the centre. Repeat process until all cupcakes are iced. You will have to make two "sausages" of icing to ensure that all cupcakes are iced.
When you have finished icing, add a candy cane into each cupcake and dust with icing sugar. Store in the fridge or at room temperature. Best served at room temperature.