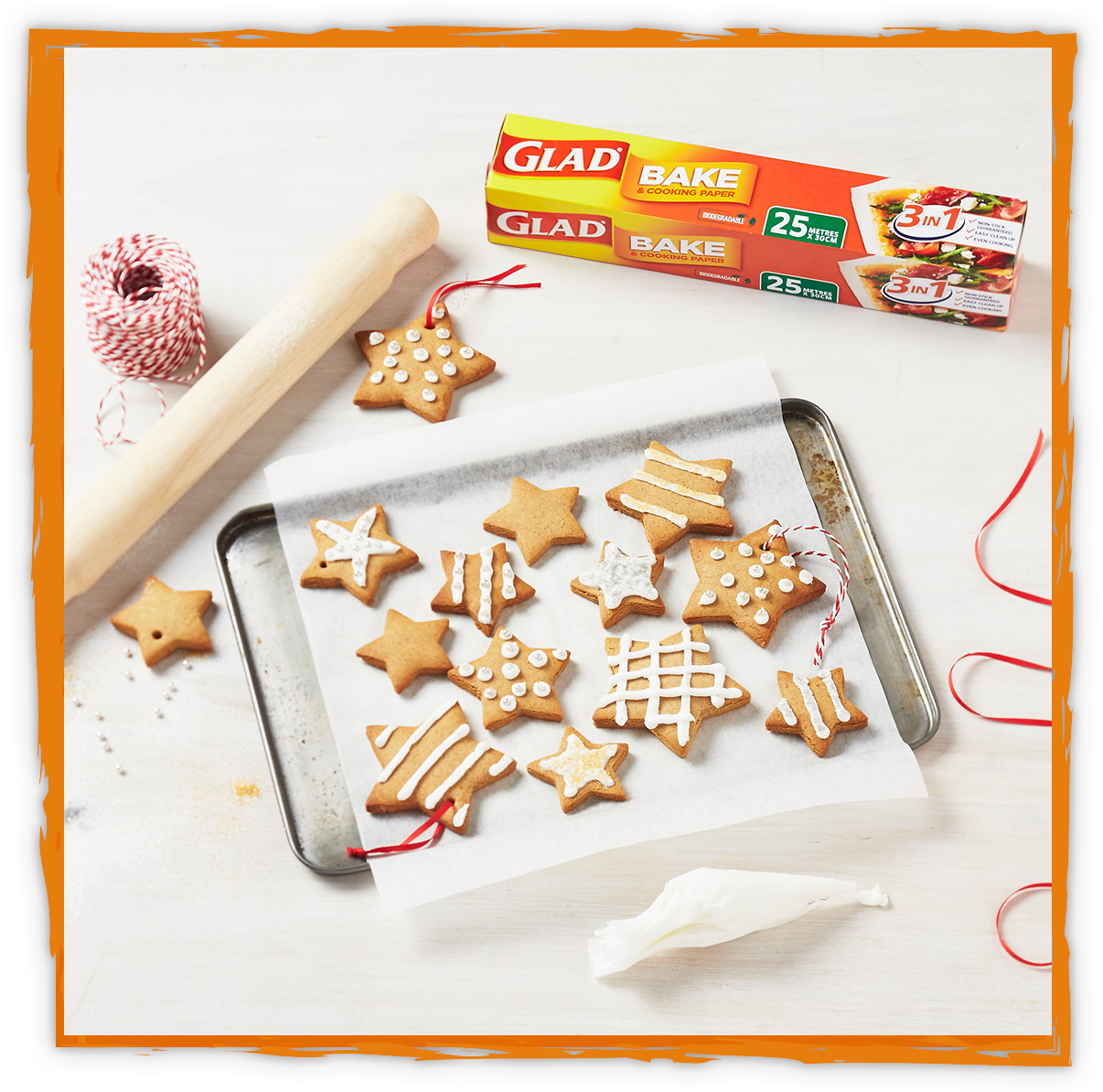 Christmas Biscuit Decorations
with Glad Bake & Cooking® Paper
Ginger and orange star biscuits are a great snack to enjoy this festive season with friends and family. You can turn them into tasty looking Christmas decorations with the help of Glad Bake & Cooking® Paper and some festive ribbon. For the finishing touches, create a homemade piping bag by cutting a sheet of Glad Bake & Cooking® Paper into a triangle and folding it into a cone shape. Fill the piping bag with royal icing to decorate the biscuits before hanging them from the tree to enjoy in the lead up to the big day.
Find out how to make them here:
Preparation time: 30 minutes plus 1 hour chilling
Cooking time: 20 minutes
Serves 8
50g unsalted butter, chopped
1/2 cup brown sugar
1/4 cup golden syrup
1/4 cup honey
2 cups plain flour
1/2 cup self raising flour
2 teaspoons ground ginger
2 teaspoons ground cinnamon
1/2 teaspoon bicarb soda
1 egg, lightly beaten
1 teaspoon orange zest
royal icing, to decorate
1. Place the butter, sugar, golden syrup and honey in a small saucepan over low heat, stirring until combined and fully melted. Remove from heat and cool slightly.
2. Sift the flours, spices and bicarb into a large bowl. Mix the egg into the butter mixture, then pour into the dry ingredients along with the orange zest and mix until combined. Transfer to a lightly floured bench and knead until smooth. Shape into two discs, wrap in Glad® Wrap and refrigerate for an hour.
3. Preheat oven to 170°C. Remove dough from fridge and roll out between sheets of Glad Bake & Cooking® Paper to around 5mm thickness. Using cookie cutters, cut into star shapes. Gather excess dough, knead lightly, re-roll and cut to make more cookies.
4. Place stars on a lined baking tray. Cook for 15-20 minutes or until golden. Remove from oven, cool completely then decorate the biscuits with royal icing by cutting a sheet of Glad Bake & Cooking® Paper into a triangle and folding it into a cone to create an easy to use piping bag.
Note: For a tasty looking Christmas decoration, make a small hole in the star cookies before baking. Once baked and cooled, thread with festive ribbon or string and hang on the tree.