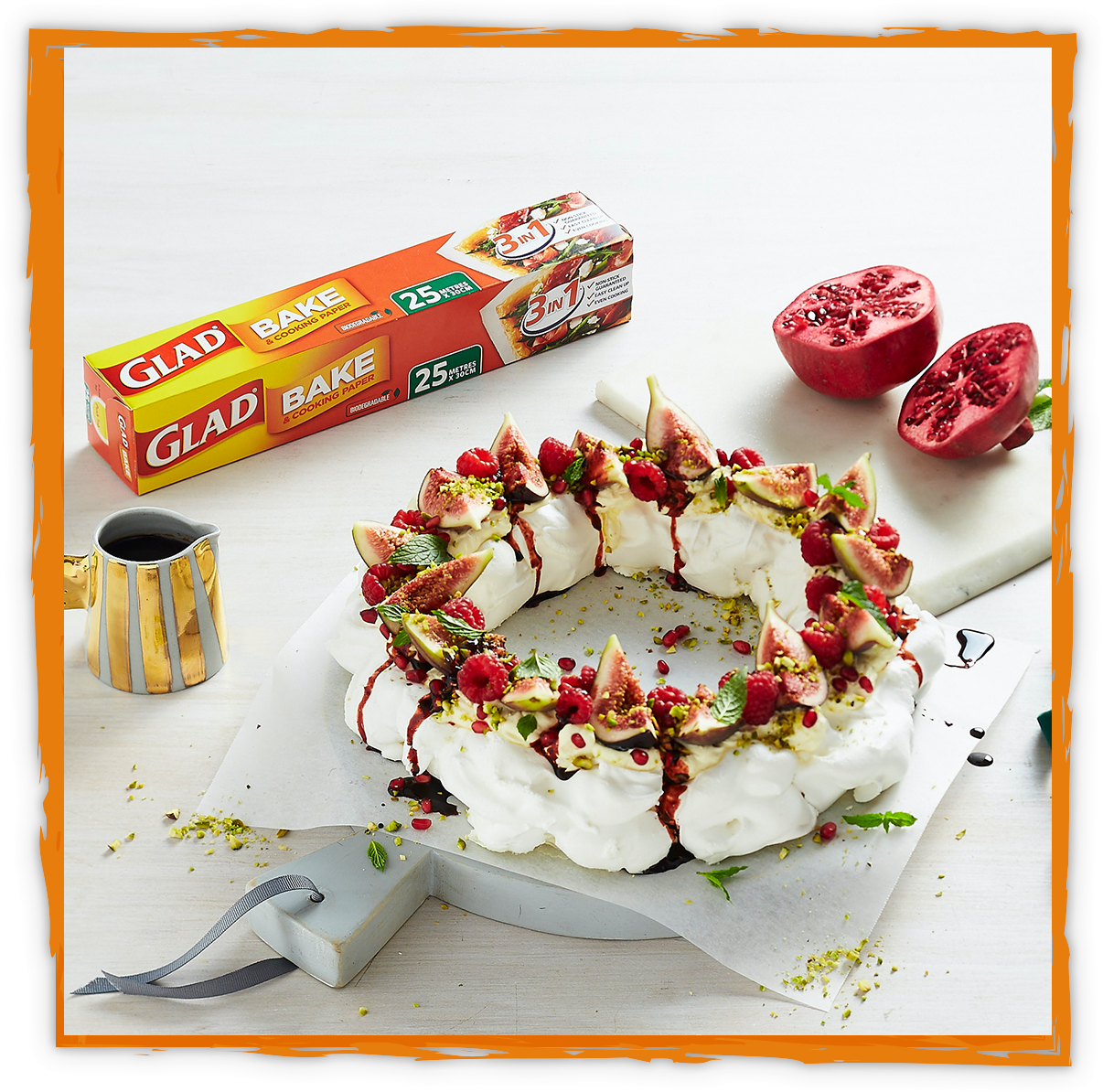 Make the Perfect Christmas Pavlova
with Glad Bake & Cooking® Paper
Pavlova is the ultimate dessert to enjoy with family this Christmas. For a twist on the traditional Pav, check out how to make this delicious wreath shaped fig and pistachio Pav with pomegranate and berries. It's easy with the help of Glad Bake & Cooking® Paper, just follow the below steps:
Preparation time: 30 minutes
Cooking time: 2 hours
Serves 8
Ingredients:
6 egg whites
1 1/2 cups caster sugar
2 teaspoons cornflour
1 teaspoon white vinegar
300g thick cream
4 figs, quartered
300g fresh berries, eg. raspberries, blackberries
1 pomegranate, pearls removed
1/4 cup chopped pistachios
1 bunch mint
1/4 cup pomegranate molasses
Direction:
1. Preheat oven to 150°C.
2. Place the egg whites in a large dry bowl. Beat until stiff peaks just form, then add sugar gradually (a couple of tablespoons at a time), beating well between additions. Fold through cornflour and vinegar and beat until fully combined.
3. Draw a circle approximately 20cm on a piece of Glad Bake & Cooking® Paper and place on a large baking tray. Place heaped spoonfuls of meringue on the baking paper, following the circle to form a wreath shape. Flatten the tops slightly.
4. Transfer the tray to the oven and reduce the heat to 120C. Bake for 1½ hours, then turn the oven off, and leave in oven with the door closed until cold.
5. Remove pavlova from oven and decorate with cream, fruit, pistachios, mint and molasses when ready to serve.
Note : Pomegranate molasses is available at most health food stores and delicatessens. Omit if unavailable or roughly crush half the berries and spoon over pavlova.