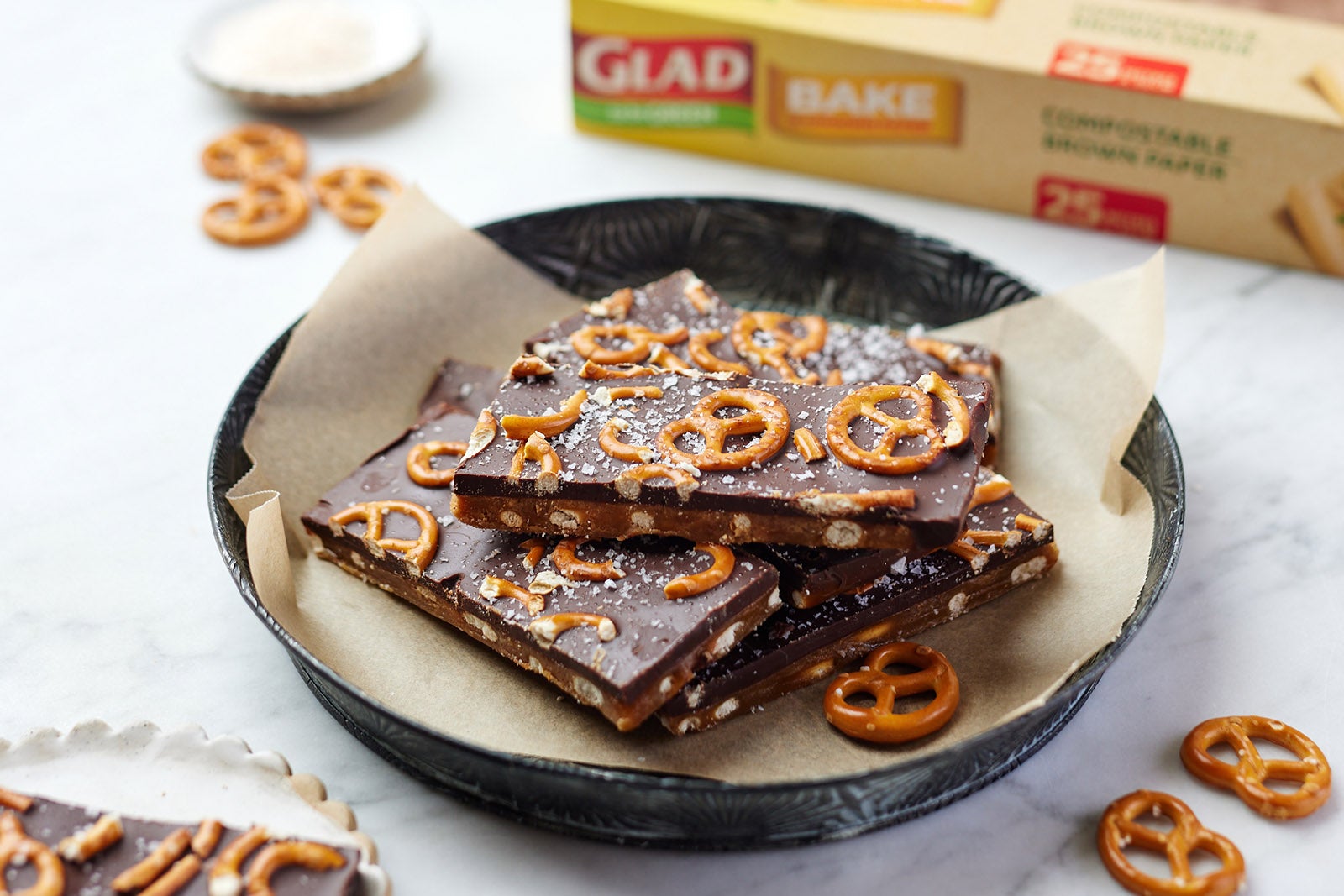 Pretzel Christmas Crack Bars
Recipe by Dani Venn
Prep Time: 10 minutes
Cook Time: 10 minutes plus chilling and setting time
Ingredients
Vegan Caramel
1 cup brown sugar
375g condensed coconut milk
200g vegan butter
1 tablespoon pure maple syrup
200g Pretzels
300g 70% minimum dark chocolate, chopped into small pieces
Salt flakes, to sprinkle on top
Method
Line a 20 x 30cm baking pan with Glad To Be Green Compostable Bake Paper. Add one even layer of pretzels to the base of the pan.
To make the vegan caramel, add brown sugar, condensed coconut milk, vegan butter and maple syrup to a saucepan and place over medium – high heat. Whisk or stir a little as it melts so that the mixture is smooth then allow mixture to bubble and simmer until the temperature of the caramel has reached firm ball stage. (121/250 degrees) It is best to use a candy thermometer for this step but if you don't have one, if you drop a little caramel into a glass of cold water it should be firm but not hard.
Remove from heat and whisk then gently pour over the layer of pretzels. Use a spatula to smooth out the caramel if needed. Place the baking tray in a fridge or freezer to firm up.
When caramel is firm, melt dark chocolate in a heat proof bowl in the microwave or over a double boiler. Whisk until smooth then pour over the caramel. Top the chocolate with extra pretzel pieces and place in the fridge to chill and firm up quickly. Sprinkle with salt flakes and slice to serve. To make this a edible gift, wrap bars in Glad to Be Green Bake Paper and tie with a Christmas ribbon.